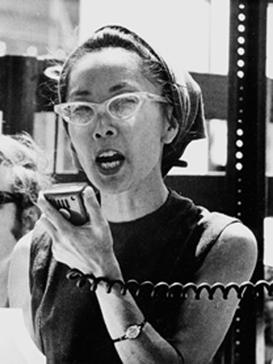 Yuri Nakahara, activist for all minorites
 May 19, 1921: birth of 

Yuri Nakahara

in San Pedro California
December 7, 1941: Pearl Harbor bombing, her father arrested quickly after
1943: Executive Order 9066 is issued, Yuri and her family gets sent to concentration camps
1946: Yuri gets married and moves to New York
1963: Yuri meets Malcolm X
July 6, 1964: Yuri and Malcolm X host reception for hibakusha with the mission to speak against nuclear violence  
1977: Yuri protests at the Statue of Liberty for Puerto Rican rights
1988: President Ronald Regan signs the Civil Liberties Act
June 1, 2014: Yuri Nakahara passes away at age 93
How a concentration camp intern contributed to the civil rights movement
Yuri Nakahara was born on May 19, 1921, in San Pedro, California to immigrant parents. Her father, Seiichi Nakahar, was a fish merchant entrepreneur and her mother, Tsuyako Nakahara was a piano teacher. She grew up in a predominantly white community, where she developed a passion for journalism. She graduated from San Pedro High School in 1939 and went on to study at Compton College to study English, journalism, and art.
Her momentum toward social activism notably began in December, 1941. After the Japanese bombed Pearl Harbor, the FBI arrested her father as they labeled him as a national threat. The FBI was suspicious of his relationships with notable people associated with the Japanese, including Ambassador Kichisaburō Nomura. Her father had health problems, and his six-week detention elevated them. He came home in critical condition and died the day after his release.
In 1943, Shortly after Yuri's father's death, Executive Order 9066 was issued by Franklin D. Roosevelt,  120,000 American-Japanese individuals were sent to concentration camps. Yuri and her mother were sent to a concentration camp in Jerome Arkansas for two years. This experience, on top of the way her father was treated, motivated Yuri to one day contribute to change against the governmental abuses her and many other minorities endured.
While in camp, she met her future husband,  Bill Kochiyama, and they married in 1946 after her release. The couple moved to New York and had six children together.
Yuri's activism really began to take form in the early 1960s. She involved herself with the Asian, Black, and Third World movements for civil and human rights, and in opposition to the Vietnam war. She met Malcolm X in 1963 during a protest in response to the arrest of 600 minority construction workers in Brooklyn, New York, who were protesting their jobs. That influenced her to join his organization, Pan-Africanist Organization of Afro-American Unity, to continue her pursuit in the fight for human rights.
On July 6, 1964, Yuri and Malcolm hosted a reception for the hibakusha (atomic bomb survivors), who were a part of the Hiroshima/Nagasaki World Peace Study Mission, at her home in Harlem. Their mission was to protest and speak out against nuclear violence. 
Yuri was present at the assassination of Malcolm X at the  Audubon Ballroom in Washington Heights, New York City, and was seen holding his head as he was taking his last breaths. Her relationship with Malcolm X was incredibly strong and she established herself as a significant figure in the world of activism for racial equality and human rights. The FBI would refer to her as a "Red Chinese Agents" "ringleader" of black activists.
In 1977, she joined a protest of Puerto Ricans, who took over the Statue of Liberty to bring attention toward Puerto Rico freedom. The group advocated the release of Puerto Rican nationalists: Lolita Lebrón, Rafael Cancel Miranda, Andres Figueroa Cordero, and Irving Flores Rodríguez, people who shot fire in the House of Representatives, and injured five congressmen. President Carter allowed their release in 1979. 
In the 1990s, Yuri and Bill requested that the government provide compensation and a formal apology to those affected by the Japanese-American War, and this fueled the campaign to bring  Commission on Wartime Relocation and Internment of Civilians to New York. Yuri founded the Day of Remembrance Committee in New York City to honor the day Franklin D. Roosevelt ordered the Executive Order 9066. In 1988, President Ronald Regan signed the Civil Liberties Act, and one of the effects of the bill was the government sending $20,000 to the living American-Japanese that were sent to concentration camps.
For the rest of Yuri's life, she remained an advocate for equality for all parties and voice in American politics. In the 2000s, she provided English lessons to children under unfortunate circumstances at homeless shelters and soup kitchens. She also wrote a book called "Passing It On," which covers her family history, events in her life, and sentiments she possesses.
Yuri passed away on June 1, 2014. Her legacy stands out as a woman during a time where gender equality was also a significant topic, who advocated not only for the struggles her race endured in America, but many minority groups that were affected by the state of society. She touched the hearts of many people, and the people she interacted with are who she dedicates the life she lives to." Life is not what you alone make it. Life is the input of everyone who touched your life and every experience that entered it. We are all part of one another."