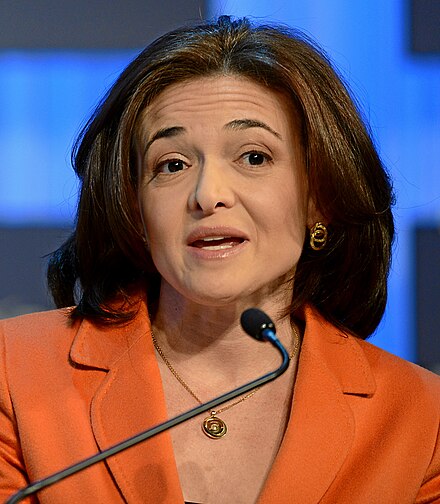 Sheryl Sandberg, anchor of social media
August 28, 1969: Sheryl Sandberg is born in Washington D.C
1991: She gets her Bachelors Degree in Art in Economics
1991-1993: She works in India working on health projects
1993: She enrolled into Harvard Business School
1996: She works as Laurence Summers' Chief of Staff
2001: She joins google and was responsible for sales operations
March 2008: She joins Facebook as the COO
2013: Her first book "Lean On" was Published
2014: She sells over half of her Facebook shares for north of $1B 
2016: She and Facebook at large face criticism for how the platform enabled the Russian Interference United States Presidential Election and the Cambridge Analytic data scandal
2022: She steps down as the COO of Meta (Facebook and the companies it owns)
How sandberg helped transform social media
Sheryl Sandberg was born on August 28, 1969  born in Washington D.C. She was born to a Jewish family and was the oldest of three children. Her family moved to Miami, Florida, when she was two years old and she spent the rest of her childhood there. 
Sandberg was an exceptional student. She attended North Miami Beach, Florida, and graduated in 1987. She graduated ninth of her class in academic standing, was a member of the National Honors Society, was on her senior class executive board. This academic success led her way to acceptance to Harvard, where she ultimately attended and obtained a Bachelors in art in Economics in 1991. She was the top student in the school in economics and received the John H. Williams award. She also founded Women in Economics and Government, and this organization showcased to others her ability to lead and manage a group. One particular individual who was impressed by those qualities was Laurence Summers, and he became her mentor and recruited her to be a research assistant at the World Bank. Sandberg spent 1991-1993 working on various health projects in India. When she returned from India in 1993, she enrolled into the Harvard Business School and earned her MBA in 1995.
During this time of Sandberg's life, she believed her destiny was not to work for profit-oriented environments, but organizations that create change for people. Straight after graduating, she entered the corporate world, proceeding as a Management Consultant for  McKinsey & Company. She spent 1996-2001 working with Summers again as his Chief of Staff while he was  the United States Secretary of the Treasury under President Bill Clinton.
In 2001, she joined Google- which wasn't the empire it was today-and was responsible for sales operations and managing the online sales of Google advertising. During her time at Google, the ad and sales team grew from 4 to 4,000 members.
Sandberg created a name for herself as a critical piece to Google's exponential growth, and that really shined to Mark Zuckerberg when he created Facebook in 2007, and quickly recruited her to become Chief Operating Officer, a role she officially accepted in March, 2008. Facebook wasn't profitable at the time she joined the organization. The organization was focused on maximizing the site's quality and the profit would follow, and that profit came in 2010. In 2012, she joined the first woman to be on the Facebook board of directors
In 2014, she sold over half of her 24 million shares of her Facebook stock. This skyrocketed her path to becoming a billionaire as she accumulated over $1,000,000,000 alone for those Facebook stocks. 
By 2016, Facebook was worth $27.6 billion, a dramatic increase from the $153 million prior to when Sandberg joined.
Sandberg began to face criticism in 2016 both from Zuckerberg and the media for how she handled Facebook's public relations and how that played a role in the Russian Interference in the 2016 United States Presidential Election and the Cambridge Analytica data scandal, when millions of Facebook users had their data collected without permission by Cambridge Analytica for political advertising. 

She stayed with Meta (Facebook, Instagram, Whatsapp) until 2022. Zuckerberg was shifting the company's identity and profile further toward the Metaverse, and while doing so, Zuckerberg was taking Sandbergs' responsibilities, lowering her stature within the company. She says she left Meta by choice to focus on her other ventures.
Outside of Facebook, Sandberg has a ton of involvement. She serves on boards for the Walt Disney Company, V-Day, the Center for Global Development, and Women for Women International, an organization that teaches women survivors of war ways to take care of their community and protect their families. R
She is also an author. In 2013, her book, Lean In: Women, Work, and the Will to Lead, was published. This book was focused on the lack of women leaders and the business and political worlds. The book encouraged women to embrace and pursue their dreams and to not devalue themselves because of external values and historical obstacles. 
She also released another book called Option B in 2017.
In addition, she also runs the Sheryl Sandberg & Dave Goldberg Family Foundation. This is a philanthropic that focuses on a multitude of charities. Its finances are fueled by a chunk of Facebook stock that was donated by Sandberg.
Today, Sandberg has a networth of $1.8 billion, establishing herself as one of the wealthiest women on earth. While she isn't with Facebook anymore, she remains one of the most prominent factors in Silicon Valley and a role model for women who aspire to pursue enormous heights in the business world. She believes that the more women help themselves reach their potential in a society that is still fighting sexism, the more the status of women will rise. "The more women help one another, the more we help ourselves. Acting like a coalition truly does produce results."