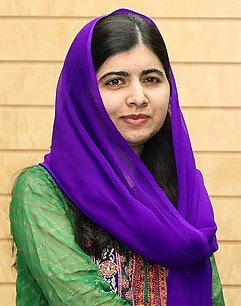 Malala Yousafzai, Girls' Rights to Education Activist
Malala Yousafzai is a Pakistani women's rights activist. She is an international symbol of the fight for girls' education after she was a victim of an assassination attempt in 2012 because of her opposition to Taliban restrictions on girls' education 
June 12, 1997:

Born in Mingora, Khyber Pakhtunkhwa Province

2009

: Malala is more recognized throughout the world

2009

: Testimony about girls' education

2009

:

Nominated for the International Children's Peace Prize of the KidsRights Foundation

2011

: Received the first National Youth Peace Prize

2012

: Victim of an assassination attempt

2012:

Received the Simone

de Beauvoir Prize for Women's Freedom

2013:

Released her book, I Am Malala: The Girl Who Stood Up for Education and Was Shot by the Taliban

2013:

Co-founded the Malala Fund

2014:

Awarded the Nobel Peace Prize – Became the youngest winner

2021:

Married Asser Malik
How a Hollywood actress helped inventing WiFi
At the age of eleven; Malala began her fight for the rights of girls to education against the extremism of the Taliban in Pakistan. She is an international symbol of the fight for girls' education after she was a victim of an assassination attempt in 2012 because of her opposition to Taliban restrictions on girls' education.
Malala was born on July 12, 1997, and she is a Pakistani women's rights activist. Her father, Ziauddin Yousafzai mainly managed her education. Her father, an education activist himself and owner of a girls' school in the Swat Valley fueled her passion for girls' schooling. In 2009, the world began to learn about who Malala was. She gave a testimony entitled Diary of a Pakistani schoolgirl, on a BBC Urdu blog. Her father urged her to testify. Malala and her family were separated after she denounced the violence of the Tehrik-e-Taliban Pakistan, which set fire to schools for girls and murdered its opponents. She appeared tear filled in a video saying she wanted to become a doctor. 
In 2009, she was nominated for the International Children's Peace Prize of the KidsRights Foundation, and in 2011, she received the first National Youth Peace Prize from the Pakistani government. 
"I don't speak for myself, but for those whose voices are never heard, those who fought for their rights."
Malala was eventually reunited with her family. She continued her fight for girls' education alongside her father. She put herself at risk every day, and even was the victim of an assassination attempt in 2012 while on her way home from school. Malala, hit in the head; was seriously injured. During this time of recovery, Malala's following grew. More awareness was made about the attack and reactions to Päkistan. In 2012, she received the Simone de Beauvoir Prize for Women's Freedom. 
Following her recovery, Malala and her father founded the Malala Fund to raise global awareness of the social and economic impact of girls' education and to empower them to demand change. At age 17, she won the Nobel Peace Prize with Indian Kailash Satyrarthi. This award made her the youngest winner in the history of the prize.
The right to quality education is not always available to everyone; however, it is the basis for improving people's living conditions and for sustainable development. As Malala states, "Education is a basic right." Malala works to ensure everyone has access to inclusive and quality education. 
"I'm not asking men to stop speaking on behalf of women and their rights, but I want women to become independent and fight for themselves."
Malala went on to attend and graduate from Oxford University. She currently lives in the UK with her family and husband. Her fight is never-ending, and she continues to dedicate her efforts to fight for equality in education for girls.
"I believe in the power and strength of words. A child, a teacher, a book, a pencil can change the world."
As she continues her fight, she reminds us of a simple concept. The color of our skin does not matter. The language we speak does not matter. The religion we practice does not matter. What truly matters is that we are kind to one another, and we respect everyone's basic human rights.
"The important thing is not the color of the skin, the language spoken, the religion practiced; the important thing is to respect each other and consider each other as human beings."