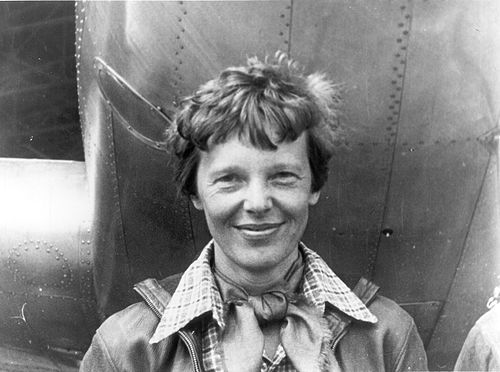 Amelia Earhart, the woman who changed aviation
Amelia Earhart was an aviation trailblazer and writer who was the first woman to fly across The Atlantic, to fly from Hawaii to California individually, and much more. In her short life, she displayed what is possible for any woman who is willing to fight societal normalities to achieve one's dream.
  July 24, 1897:Born in Atchison, Kansas
1916

: Graduated Hyde Park Academy in Chicago, Illinois

1917: Visited her sister in Toronto, Ontario, and remained there to work as a nurse aid
1920: Enrolled in an aviation program at Columbia University
1921

: Bought her first plane: a Kinner 

Minster
1923: Earned her pilot license
1928: Became the first woman to fly across The Atlantic
2019

: Returned from pregnancy and won two titles at the world championships 

1929 : Helped found an organization of female pilots called "Ninety-Nines"
1932: Completed a flight from Harbour Grace, Newfoundland, to Londonderry, Northern Ireland in record-breaking time
1935: Made the first solo flight from Hawaii to California 
July 19, 1937:

On a flight to Howland Island, Amelia was declared lost at sea
"The most effective way to do it, is to do it"
Childhood
     Amelia Earhart was born on July 24, 1897, in Atchison, Kansas. Early in her life, she was raised by her grandparents during the school year, and would live with her parents in Kansas City, Missouri, in the summer. Her father did legal work with various railroads, which made moving a commonality for Earhart's family. Amelia also lived in Des Moines, Iowa, St. Paul, Minnesota, and finished her childhood in Chicago, Illinois. Amelia was a tomboy at heart. As a kid, she climbed up trees, sledding, and hunted rats.
     Amelia's childhood wasn't all sunshine and rainbows, though. Her father, Samuel Stanton Earhart, struggled with alcoholism and was forced to temporarily retire in 1914, as a result. Two years prior, her grandmother, Amelia Josephine Harres,  passed away, which was incredibly heartbreaking for Amelia because of how trustworthy of a figure her grandmother was. There were also worries about if the absence of her grandmother's influence would add momentum to her father's spending and alcoholism habits.
     After working as a clerk in St.Paul, Minnesota, in 1915, her father attempted to transfer to Springfield, Missouri, but after the person in his desired position remained, the family was in a lost position, and Amelia's mother, Amy, moved Amelia and her siblings to Chicago, Illinois. Amelia graduated Hyde Park Academy High School in 1916. Despite a struggle-filled childhood, Earhart was incredibly ambitious to make a mark in this world in ways few women were allowed to pursue. She kept a scrapbook of newspaper clippings that possessed examples of women who succeeded in men-dominated fields.
     She then went to college at Ogontz School in Rydal, Pennsylvania, but didn;t finish her degree there. She visited her sister in Toronto, Ontario, in 1917 (during WWI) and gained interest in helping injured soldiers, so she stayed and was a nurse aid until 1920.
 The Journey To Aviation Success
     During this period, her interest in aviation continued to rise; so in 1920, she enrolled into an aviation program at Columbia University. At Columbia, she took her first flight, which motivated her to take flying lessons, as a hobby. In 1921, she bought her first plane, a Kinner Ainster, and earned her pilot license in 1923.
     In her mid 20s, she moved to Massachusetts to be a social worker at the Denison House, a settlement home for former soldiers, but she continued to take flying lessons and polish her craft as a pilot. At this point, she was motivated to leave her mark as a pilot in ways women haven't before.
     In 1928, she became the first woman to ever fly across the Atlantic Ocean. She was a passenger on the Fokker F.VIIb/3m, NX4204, Friendship plane that was piloted by Louis Gordon and William Stultz. It was a 20 hour and 40 minute flight in which the plane departed from Trepassey Harbor, Newfoundland and Labrador, Canada, and arrived on the southwest coast of Wales. She wrote about the flight in her book called "20 Hrs. 40 Min," and lectured about her experience around the country.
     In 1932, she completed a flight from Harbour Grace, Newfoundland, to Londonderry, Northern Ireland, in a record-breaking time of 14 hours and 56 minutes. In her book The Fun of It (1932), she talked about the mechanical difficulties that she had to overcome in that flight, which forced her to pivot from her initial target destination, Paris, France.
     In 1935, Amelia made history once again. She made the first solo flight from Hawaii to California. The 2,408-mile flight took 17 hours and 7 minutes, departing from Honolulu and landing in Oakland. That same year, she was the first person to fly solo from Los Angeles, California to Mexico City, Mexico.
     In 1937, Amelia was in the middle of a journey to successfully fly all around the world with Fred Noonan, an American flight navigator. Unfortunately, that dream was never accomplished. Late in the journey, in a flight headed for Howland Island, Amelia reported to Itasca, a US Coast guard near Howland, that the plane was running out of fuel. An hour later, she declared, "we are running north and south," which ended up being the last transmission Amelia would ever make. The plane was believed to have gone down 100 miles away from the island. An extended search was made to find Amelia and Noonan, but on July 19, 1937, the search ended and they were declared lost at sea.

     In the journey of becoming one of the most well-known pilots of her time, Amelia- while she didn't label herself a feminist-  was known for encouraging women to reject social normalities and to pursue their dreams. In 1929 she helped found an organization of female pilots that later became known as "The Ninety-Nines." Earhart served as its first president. In addition, she debuted a functional clothing line in 1933, which was designed "for the woman who lives actively."
"Women, like men, should try to do the impossible. And when they fail, their failure should be a challenge to others."
     Eighty-six years after her disappearance, Amelia remains one of the most influential women in history. She was someone who constantly battled to overcome social standards that allowed her to become one of the greatest pilots and most famous people of her time. She stood by the philosophy that anything is possible with the proper determination and actions. "The most effective way to do it, is to do it," Amelia said.